Member Organizations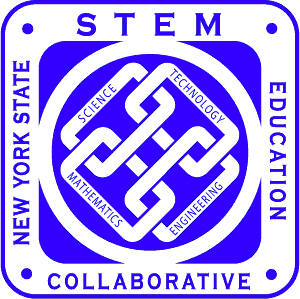 Welcome to the New York State
STEM Education Collaborative
Established January 2009

April 16, 2014
New York State is a member of the STEMx coalition
Summer Institute Registration
is now open
Online interactive form is available for the following:
CALL for VENDORS

ALL VENDOR REQUESTS ARE DUE BY MIDNIGHT ON MAY 31, 2014.
---
Past Summer Institutes of the NYS STEM Ed Collaborative
NYS STEM Ed Collaborative
working definition of "STEM Education"
STEM Education refers to utilizing the NYS MST Standards in the teaching and learning of the Science, Technology Education, Engineering and Math (STEM) disciplines, in an innovative, integrated, collaborative, and applied fashion to a level of challenge sufficient for college and/or career readiness.
(Developed in part from the National STEM Initiative)
Our Partners


American Society of Engineering
Education

Empire State STEM Learning Network


NYS Association for Computers and Technologies in Education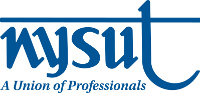 New York State United Teachers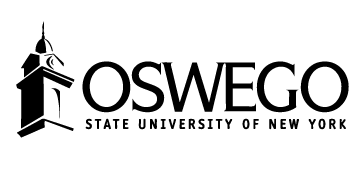 SUNY Oswego


NY Institute of Technology
School of Education
School of Engineering and Computer Sciences

Technology Alliance of
Central New York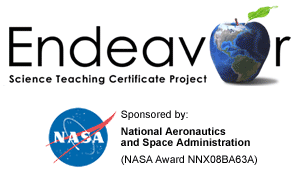 NASA Endeavor Science Teaching Certificate Project
In The News...
Report: STEM Job Market Much Larger Than Previously Reported (2014Feb05)
Kavli "Science in Fiction" Video Contest: CALL FOR ENTRIES!
The USA Science & Engineering Festival, in association with the Kavli Foundation, has launched the Science in Fiction video contest.

Using scenes from popular science fiction movies and TV shows, and video games, Gr. 6-12 students will create :30-:90 videos that investigate how science fictional scenes could be realized using current and developing technologies. The video contest culminates in a popular awards show, hosted by Bill Nye, as part of the Festival, which returns to Washington, D.C. on April 26-27, 2014. The contest officially opens for entries on Nov. 1, 2013 and closes Mar. 21, 2014. First prize is $2000 cash prize and a travel stipend to travel to Washington D.C. for the Expo. The second prize is $750 and the third prize is $500. The People's Choice Award prize is $250.
For more information please visit the contest website:
http://www.usasciencefestival.org/2014-festival/2014-contests/kavli-video-contest-2013-2014.html

Learn more about how teachers can use our video contest in the science classroom:
http://scienceblogs.com/usasciencefestival/2013/11/19/next-generation-learning-with-the-kavli-science-in-fiction-video-contest/
NASA Taps Student Teams to Simulate Human Exploration of Other Worlds - NASA is debuting a new engineering design challenge to engage students worldwide in the next phase of human space exploration. The NASA Human Exploration Rover Challenge is a more complex follow-on to the successful NASA Great Moonbuggy Race.
Change the Equation (CTEq) has just released Vital Signs, a new series of national and state-level reports that paint a wide-ranging and in-depth picture of science, technology, engineering, and mathematics (STEM) learning.
Now you can subscribe to the NYS STEM Collaborative Listserv
New York is now a member of the new STEMx coalition of state STEM networks through Empire STEM, through which we are beginning to interconnect messages through states' social media as well as STEMConnector and other national partners.
Have You Seen...
Switch Energy Project - The Switch Energy Project is a nonpartisan effort to build energy awareness and promote efficiency. The project includes a feature length documentary, the world's only video library dedicated to energy and a soon-to-be-released K-12 video and companion curriculum program co-developed by NEED.org. Watch the trailer for Switch here.

The Switch Education Edition DVD is specially designed for classroom use and features the full documentary, chapters categorized by resource type and energy issue to pair with curriculum, as well as a Discussion and Learning Guide created with innovative ideas submitted and tested by teachers. It includes discussion questions, ideas for incorporating Switch web videos into coursework, resources for leading a campus efficiency drive and more.

Shown at movie theaters and film festivals across the country, as well as at over 300 universities, Switch features exclusive interviews with the world's most renowned energy experts from government, industry and academia, as well as visits to the energy facilities never before seen on film.

Educators can order a free copy here. If you wish to request a bulk order for a conference or teacher training session, please email recklund@arcosfilms.com.


PBS KIDS' Design Squad Nation - Design Squad introduces students to engineering by offering STEM-related videos and a community for kids/teens to get inspired and share creative ideas. We also have a Parents and Educators section with STEM guides, lessons and classroom-ready resources
The STEM Talent Gap
STEM Magazine - S.T.E.M. Magazine is a publication of the Carley Group LLC. Wayne Carley is the publisher and senior editor for all content in S.T.E.M. Magazine.
STEM Career - for those seeking and promoting STEM Careers
STEM Daily - One Stop Shop for STEM Education
Solve for <x> - A forum to encourage and amplify technology-based moonshot thinking and teamwork.
YouTube's Education Channel - scrubbed of offensive material.
National Environmental Education Week (April) - Environmental solutions for the future can begin with you!
Masters of Gravity is an example of how Western Reserve PBS is helping educate Ohio's youth.
Scitable is a free science library and personal learning tool brought to you by Nature Publishing Group, the world's leading publisher of science.
Change the Equation pledges to create widespread literacy in science, technology, engineering and math (STEM) as an investment in our nation that empowers us all.
Engineering in Elementary Classes - By WINNIE HU (published NY TIMES 6/13/2010)
Center for Technology and Innovation - A New Museum in Binghamton, NY